Xiu Mei Chen, center, the wife of murdered delivery man Fahua Chen, cups the bullet hole left by the round that killed her husband. Mott Haven, The Bronx. Oct. 20, 2005.
Firefighters extinguish a 10 alarm fire at the former Greenpoint Terminal Market in Brooklyn. Greenpoint, Brooklyn. May 02, 2006.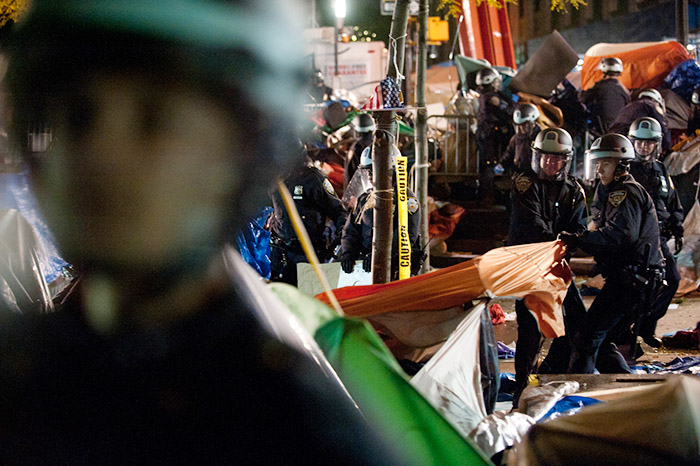 Members of the New York City Police Department tear down tents as they evict Occupy Wall Street demonstrators from Zuccotti Park, ending the demonstrators nearly two-month-long encampment. Manhattan, New York. November 15, 2011.

Afghan National Army soldiers return to Highway 1 with the bodies of Taliban and foreign fighters killed during combat in Shajoy District. Zabul Province, Afghanistan. July 24, 2008.
A U.S. soldiers takes a photograph and enters biometric data of a captured Taliban fighter in Shajoy District. Zabul Province, Afghanistan. July 25, 2008.
The Delli-Pizzi family waits at JFK airport for the arrival of 1LT Louis Delli-Pizzi after he served a year as a embeded tactical trainer in Afghanistan. Queens, New York. December 28, 2008.
Specialist John Hong of the New York Army National Guard's 69th Infantry Division, salutes the coffin containing the remains of his friend, John Barbato, during an internment ceremony at St. Charles Cemetery in Lindenhurst, New York. September 04, 2013. Barbato, a combat veteran who fought in Afghanistan, died while in a P.T.S.D. substance abuse program at the Norhport Veterans Affairs hospital.
Afghan, U.S., and Polish soldiers conduct a battle damage assessment after being ambushed during a presence patrol near Dehyak Town. Ghazni Province, Afghanistan. September 09, 2009.
Members of the Georgia Army National Guard apply first aid to a Polish soldier that was shot numerous times by the Taliban during a an ambush near Dehyak Town. Ghazni Province, Afghanistan. September 09, 2009.
A member of the New York National Guard's 69th Infantry Division returns home after a year in Afghanistan. The Bronx, New York. January 08, 2009.
James Busco stares at his medicine cabinet. Busco been struggling with Post Traumatic Stress Disorder since he served in Iraq in 2004 and has been prescribed over 30 medications by his doctors at the Veterans Administration. Huntington Station, New York. May 19, 2010.
Police conduct an investigation after a motorcycle traveling on the outer lane of the Williamsburg Bridge struck a town car from behind causing the motorcyclist to fly over the handle bars, strike and break the rear window of the town car, and then fall of the bridge to his death. Williamsburg, Brooklyn. May 05, 2006.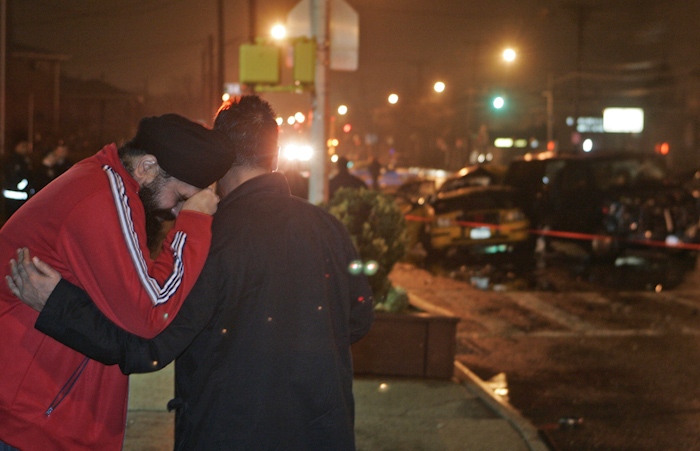 A taxi driver cries as the police investigate a collision that killed his friend, a fellow taxi driver, on Rockaway Blvd. Ozone Park, Queens. December 36, 2005.
President Bush and his wife Laura, stand with the door salvaged from a fire truck destroyed on 9/11/2001. They joined firefighters and police officers to mark the moment five years earlier when terrorists attacked the United States. Manhattan, New York. September 11, 2006.
Former Alaska Governor Sarah Palin speaks during the annual meeting of the Long Island Association at the Crest Hollow Country Club. Woodbury, New York. February 17, 2011.
Former New York City Mayor and National September 11 Memorial & Museum Chairman Michael Bloomberg shows U.S. President Barack Obama, former U.S. Secretary of State Hillary Clinton, first lady Michelle Obama, Diana Taylor, and former U.S. President Bill Clinton the memorial exhibition in the south tower footprint at the National September 11 Memorial Museum at the World Trade Center site in Manhattan, Thursday, May 15, 2014.
An American flag and a cross hang on a tree in Midland Beach as residents of the neighborhood cope with the aftermath of superstorm Sandy. Staten Island, New York. November 02, 2012.
Mariam Alsaidi, left, and her mother Glenys Borg, right, call friends looking for a place to spend the evening after their Midland Beach house was damaged during superstorm Sandy. Staten Island, New York. November 04, 2012.
A woman sleeps outside at a temporary camp for people displaced by the earthquake in the Mariani section of Port-au-Prince, Haiti. January 24, 2010.
Unclaimed corpses are pilled in a makeshift morgue at Hopital de L'Universite D'Etat D'Haiti. Port-Au-Prince, Haiti. January 16, 2010.
Kiki Joachin, 7, greets his rescuers as he is pulled from the rubble of his home seven days after an earthquake struck Haiti. Port-Au-Prince, Haiti. January, 19, 2010.